JN297LE • Haunted Autumn Mouse in House
© 2017, Just Nan, Inc.All Rights Reserved
Materials included: Color Cover, 12-page Stitch Guide, 24" of Ribbon, Orange Felt, Chipboard Base, Hex Beads, 2 Pumpkin Beads, Wired String Tail, Signature Button Mouse Base, Green Glass Hat, Black Satin Bat, and a little Gingham Heart to decorate a wall.
Not included: fusible craft weight interfacing and straight pins for the hat and bat.
Miss Ghostly Pumpkin Mouse Details
Miss Ghostly Pumpkin Mouse lives in this house. She is wearing a dress embroidered with ghosts which she thinks is much more stylish than draping a sheet over her head. She has a green glass pumpkin stem hat and holds a black bat purse. Her curly tail is orange wired string. She fits inside the house.
Linen:
Stitch her on 32 CT Weeks Pumpkin Linen with DMC.

Design area: 1 ¾" X 3 ¼". .
JN297LE
Haunted Autumn Mouse in a House & Embellishments • Limited Edition
Third in our Mouse in a House Series
Like the other houses in the series, Haunted Autumn House is built from
4 lined triangles attached to a square base. Polka dot ribbons tie the sides together.

Description:
Autumn foliage lines the walls of the house, accented with sparkling bronze hex beads. The house is "haunted" by a crew of playful ghosts.The front door features carved pumpkin stacks, 2 striped pumpkin beads and an intricate web with clever spider. On one side of the house 2 ghosts wave from the window above a trio of pumpkins.
On the other side, you will find an entertaining ghost, a running squirrel, a very loud crow and somebody's hat. In the backyard, a helpful ghost gathers apples beneath a laden tree. Inside, orange felt walls surround an autumn rug centered with a harvest moon. Beneath the rug, another little mouse scurries around the base dodging the spiders. The felt walls can hold needles and pins or tiny embellishments.
Linen:
Haunted Autumn House is stitched with DMC on a single piece of
32 CT Zweigart Raw Belfast Linen.

Cut size:
14" X 10 ¼" which includes
2" margins all around and 1" margins between house pieces. Finished house measures approximately 2 ¾" X 2 ¾".
DMC: B5200, 310, 580, 581, 613, 640, 645, 648, 720, 740, 782, 801, 817, 898, 900, 947, 972, 3051, 3689, 3777, 3837, 3862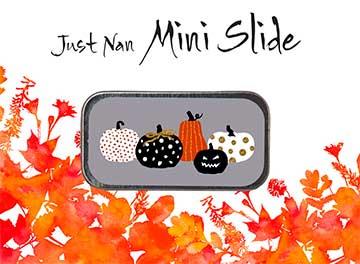 MST2 • Pumpkin Party Mini Slide
MST2 • Pumpkin Party Mini Slide Available separately
We are providing Miss Ghostly Pumpkin Mouse extra Halloween storage with a mini version of our Needle Slide. The same magnet is inside and the lid slides open and snaps closed. The little tin
(1" x 2"), decorated with pretty pumpkins, fits inside the house along with the mouse. So cute to use inside or outside of the house!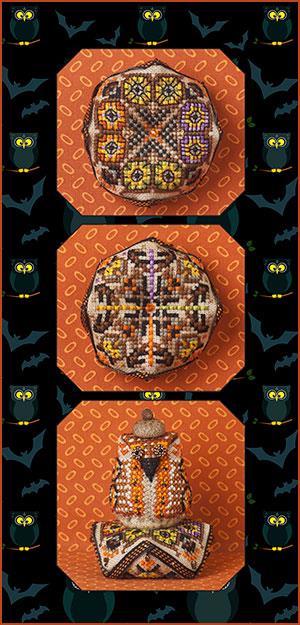 JN298 • Tiny Owls Biscornu
JN298 • Tiny Owls Biscornu & Embellishments
Four owls with fantastic eyes on one side, four owls in flight on the other, this little autumn biscornu measures just 2". It joins our growing collection of tiny biscornus.
Fabric: 32 CT Zweigart Country Mocha Vintage Belfast Linen

Design Area: 5 ½" X 2 ¼".
DMC: 166, 209, 310, 422, 580, 613, 646, 720, 740, 781, 801, 900, 972, 3837, 3862
Finishing instructions are included along with 2 colors and shapes of beads, orange crystals for the centers and textured black and orange ribbon to dress up the seams. Stitcher will need to provide stuffing and brass sequin pins to attach the ribbon.
The finished cushion can hold pins or serve as a perch for one of our owl ornaments. Mr. Nutley Owl (JNLEMNO) is pictured, and he is still available separately.