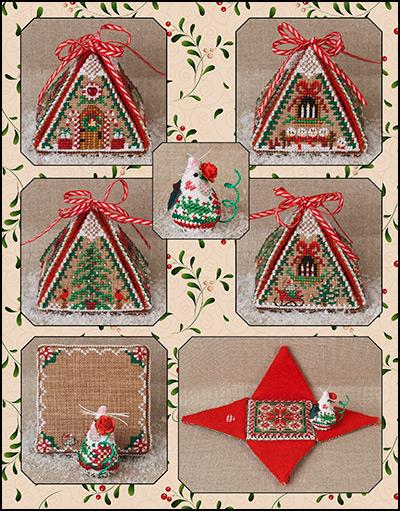 JN299LE • Christmas Mouse in House
© 2017, Just Nan, Inc.All Rights Reserved
Materials included: Color Cover, 12-page Stitch Guide, 24" of Ribbon, Red Felt, Chipboard Base, Red Crystal and Alabaster White Beads, Red Glass Heart, Wired String Tail, Signature Button Mouse Base, Red Rose Hat, Satin Holly, Red Crystal Holly Bead and a little Gingham Heart to decorate a wall.
Not included: fusible craft weight interfacing and a straight pin for the holly leaf.
Miss Holly Mouse Details
Miss Holly Mouse lives in this house. Her holiday dress features holly leaves, sparkling red beads and a poinsettia flower. She wears a red rose Christmas hat and holds a satin holly leaf pinned with a red crystal. Her curly tail is green wired string. She fits inside the house.
Linen:
Stitch her on 32 CT Zweigart White Belfast Linen with DMC.

Design area: 1 ¾" X 3 ¼".
Mouse not available separately
JN299LE
Christmas Mouse in a House & Embellishments • Limited Edition
Fourth in our Mouse in a House Series
Like the other houses in the series, Christmas Mouse in a House is built from 4 lined triangles attached to a square base. Striped candy cane ribbons tie the sides together.

Description:
Holly and red crystal berries decorate each sloped side, topped with a snowy roof covered in frosty alabaster beads. A wreath, tall candy canes and holiday gifts welcome you at the front door. Above the door, a red glass heart decorates a medallion window. Windows on the sides of the house are filled with candles and topped with festive bows. On one side of the house snowballs with carrot noses and red scarves line up on a bench. On the other side, the window overlooks a miniature sleigh and one tiny Santa mouse. A large shining tree fills the backyard, admired by 2 vibrant cardinals. Inside the house, red felt walls surround a holiday rug of snowflakes and peppermint motifs clustered around a poinsettia. Beneath the rug, another little Santa mouse scurries around the base. The felt walls can hold needles and pins or tiny embellishments
Linen:
Christmas House is stitched with DMC on a single piece of 32 CT Weeks Mocha Linen.

Cut size:
14" X 10 ¼" which includes
2" margins all around and 1" margins between house pieces. Finished house measures approximately 2 ¾" X 2 ¾".
DMC: B5200, 304, 310, 321, 326, 335, 434, 435, 645, 648, 666, 699, 701, 801, 815, 3689, 3853, 3855, 3862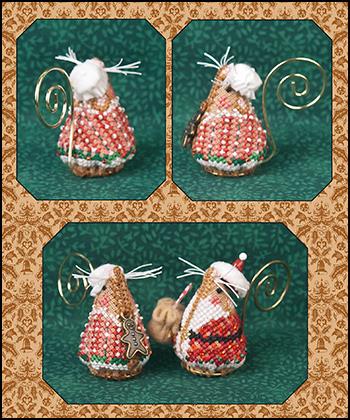 JNLEGMSM • Gingerbread Mrs. Santa Mouse
© 2017, Just Nan, Inc.All Rights Reserved
JNLEGMSM
Gingerbread Mrs. Santa Mouse & Embellishments
Limited Edition Ornament

Mrs. Santa joins last year's Gingerbread Santa Mouse. She wears a striped and beaded Christmas dress with a white collar and holly trimming at the hem. A cute little mobcap is perched on her head and she holds a gingerbread man fresh from the oven.
Included are 2 colors of beads, gold tail, our signature button for the base, white Pellon to make the cap and a gingerbread man charm.
Stitcher will need to provide stuffing and a straight pin for the cap. Complete finishing instructions for the mouse and her cap are included.
Gingerbread Mrs. Santa Mouse is stitched on 32 CT Zweigart Ant. Almond Belfast Linen or 32 CT Picture This Plus Gingerbread Linen with DMC.

Design area is 2" X 3 ½".
Fibers:
DMC B5200, 151, 304, 310, 326, 335, 434, 435, 699, 701