©2013, Just Nan Inc., by Nan Caldera • All Rights Reserved
Each Tree Hollow Hoot leaflet is packaged with a
Major Hoot Charm which is stapled to the color cover.



Tree Hollow Hoot
JN267
Embellishment:
Major Hoot Charm. Called "Major" because he is an important and large charm (2" H X 1½" W)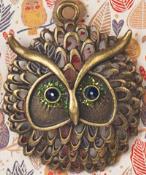 Linen:
28CT Zweigart Autumn (#290) Cashel Linen
You must use 28CT for the charm to fit!
Fibers:
DMC
Design Size:
43H X 43W
3" X 3"
8cm X 8cm
# Stitch Diagrams: 1